New NCB-H & NFC-H Series
Condensing Combi-Boilers
Navien residential combi-boilers provide endless hot water on demand, as well as whole house heating for small and large homes
NCB-H Series
The Navien NCB-H lineup offers homeowners higher turndown ratios, wider BTU ranges, longer venting for more flexible installation, an all-new easy-to-use multi-line LCD display with improved controls and intuitive navigation, and an upgraded domestic hot-water module.
 Learn more about the
NCB-H Series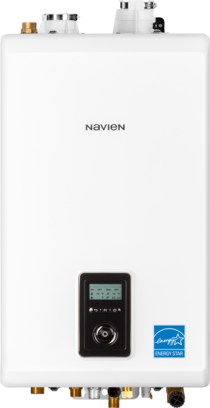 NFC-H Series
NFC-H high-efficiency condensing fire tube combi-boiler series offers the highest heating and DHW performance ever built into one compact combi-boiler.
 Learn more about the
NFC-H Series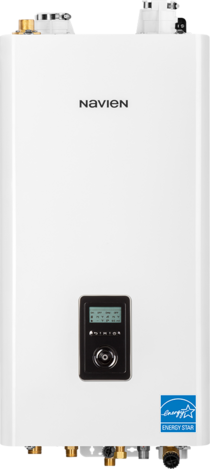 Navien NCB-H Series
Space heating up to 150,000 BTU/H  |  DHW up to 210,000 BTU/H
Navien NFC-H Series
Space heating up to 199,900 BTU/H  |  DHW 210,000 BTU/H
NAVIEN BOILERS FEATURES
The ultimate
high efficiency combi-boilers
do it all...

from the smallest apartments to larger homes
AFUE 95% Energy Star certified
Backed by the industry's strongest warranty—10 years on heat exchangers
Takes less space than floor standing boiler and tank water heater
Can be cascaded with Navien NPE-2 water heater for increased DHW flow demand
Easy to use control panel
Elegant, clean appearance
Ideal for replacements or new construction
Optional NaviLink™ WiFi remote control system
Optional NaviClean™ magnetic filtration system
Learn more about
the NCB-H Series
Learn more about
the NFC-H Series
BENEFITS OF A NAVIEN COMBI-BOILER
Hot Water Innovation
Homeowners Can Trust
Explore Navien Combi-boiler Applications
Navien Combi boilers offer endless hot water on demand for any size home, and with heat inputs up to 199,000 BTU/H, they are compatible with a variety of whole house heating applications such as finned tube and cast iron baseboards, radiant floor heating systems, fan coils, radiators, and air handlers.
Domestic hot water (showers and faucets)

Finned tube baseboards

Cast iron baseboards

Radiant floor heating

Fan coils

Radiators

Air handlers
Lower energy bills, easier on the planet
 
Navien condensing stainless steel heat exchangers recover extra heat that would be lost in non-condensing boilers. The result is a reduction in energy consumption, lower CO2 emissions and low exhaust temperatures allowing the use of less expensive venting materials such as Schedule 40 PVC.